WOW what a year 2016 turned out to be!
Here is a brief synopsis –
In 2016 The Wow Team was voted "Best Residential Real Estate Company" – Outside the Perimeter (OTP).
The WOW Team of Keller Williams First Atlanta has a business based 98 percent on referrals. The team's reputation for helping homeowners successfully buy, sell, or potentially renovate their houses speaks for itself.
"We love our clients!" Thank you for voting us the Best OTP!!!
Earlier in 2016 Janet Weidmann, The WOW Team, received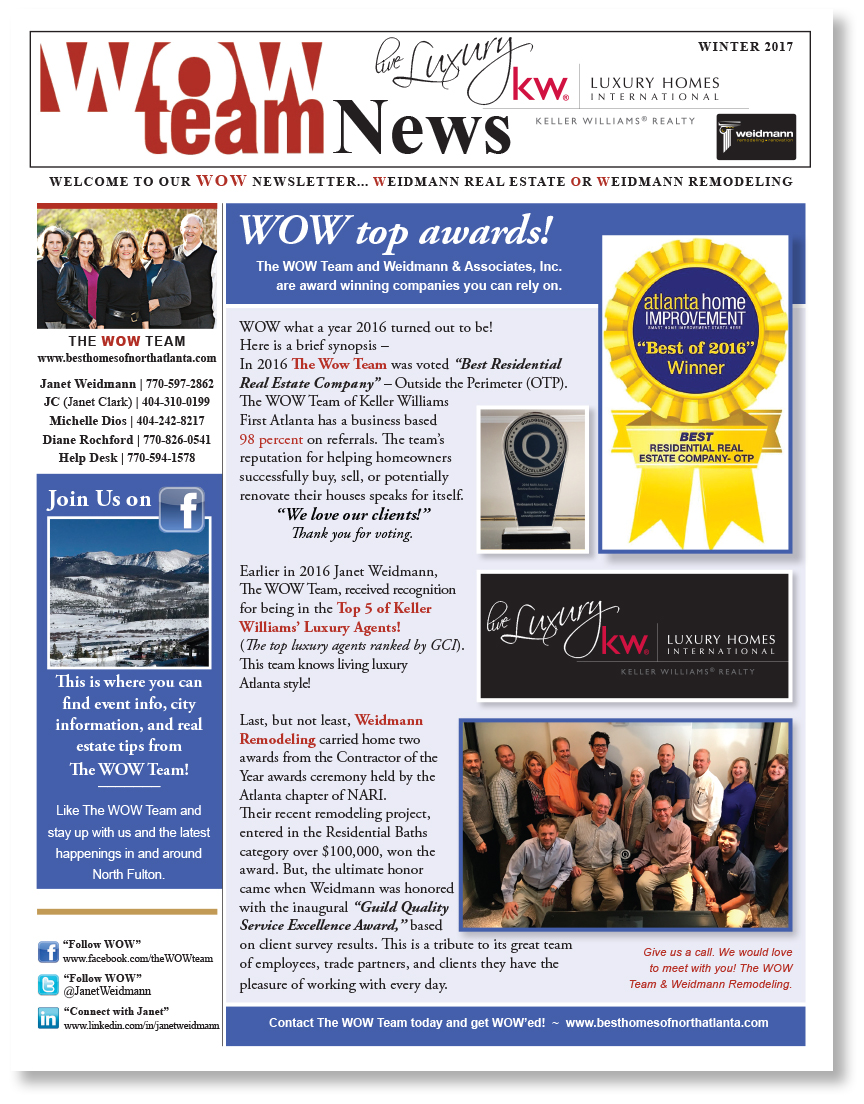 recognition for being in the Top 5 of Keller Williams' Luxury Agents!(The top luxury agents ranked by GCI). She also received the Chrystal Phoenix award for 20 yrs in Top Producer Club. Janet was also recognized as a go-to real estate source by Atlanta Home Improvement magazine. She is a KW Luxury Board member. This team knows living luxury Atlanta style!
Last, but not least, Weidmann Remodeling carried home two awards from the Contractor of the Year awards ceremony held by the Atlanta chapter of NARI.
WOW what a year! Weidmann finished strong in 2016! And, we look forward to a great 2017; helping people "love it or leave it!"
Read all this news and more in The WOW Team's Winter 2017 news edition. If you have not received your copy, contact The WOW Team and ask for your own WOW Team News – 770-594-1578 !