Looping Alpharetta – Connecting Downtown to the Big Creek & Beyond.

– Atlanta Business Chronicle | Amy Wenk, Staff Writer

The "Alpha Loop," an approximately 8-mile trail that will connect the city's downtown to big projects including Avalon and the Big Creek Greenway. It will include lighting, bicycle service areas and pocket parks for people to relax in along the routes.
Read complete article below: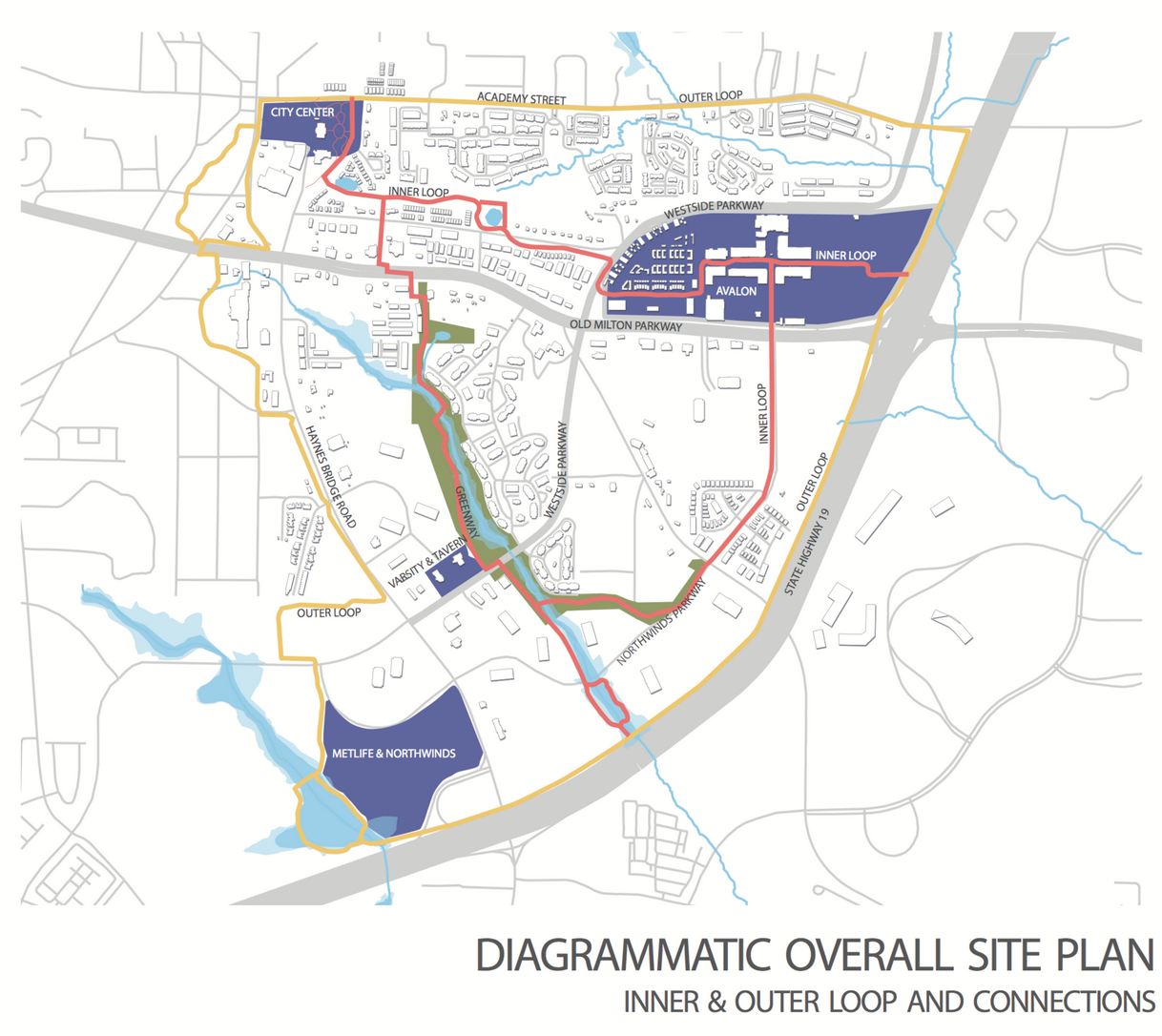 Alpharetta Will Get its Own Beltline
The city of Alpharetta wants to bring its version of the Atlanta Beltline to the suburbs, an attempt to better connect the growing city and build its appeal across the state.
Alpharetta Mayor David Belle Islethis week unveiled plans for the first phase of "Alpha Loop," an approximately 8-mile trail that would connect the city's downtown to big projects including Avalon and the Big Creek Greenway. It would include lighting, bicycle service areas and pocket parks for people to gather.
"Alpharetta will have our own Beltline," Belle Isle said during his annual State of the City Address on Feb. 21, revealing the trail path and its logo. Alpharetta City Council had approved the master plan Feb. 20.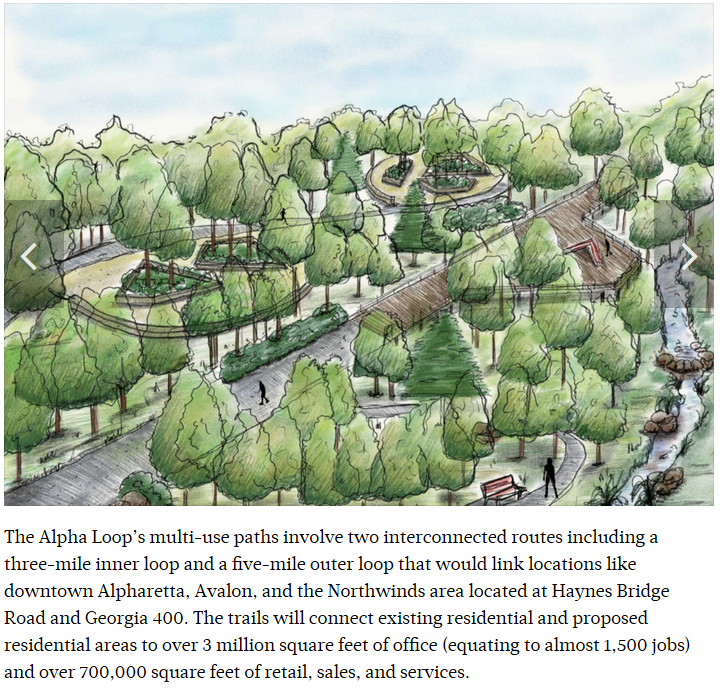 "We want to get out of our cars and start walking around," said City Councilman Jason Binders. "Plus, we have our bike share program that we started last year. It's all an effort to make Alpharetta more pedestrian friendly."
The Alpha Loop borrows from Atlanta's Beltline, one of the biggest urban renewal projects in the country, which is being built along a 22-mile loop of former rail lines. Since 2005, more than a $1 billion of new development has come around the Beltline, from Ponce City Market to thousands of new apartments. But beyond all the new investment, the Beltline has also help create a sense of community between some of Atlanta's most popular intown neighborhoods. On any given weekend, you may see an impromptu jam session along the Beltline and hundreds of people walking, biking, skateboarding or jogging.
Plans for the Alpha Loop come as Alpharetta already has experienced a flurry of new development. In the past two years, the city has issued nearly $1 billion worth of residential and commercial building permits, according to Kathi Cook, Alpharetta's community development director.
More development is coming, including the next phase of Alpharetta's City Center project. Atlanta-based MidCity Real Estate Partners and Morris & Fellows and South City Partners are expected to break ground this March on the roughly $80 million project that will add residential, office and retail space along downtown Alpharetta's Main Street.
And, the next phase of Avalon, the sprawling mixed-use project at Old Milton Parkway and Georgia 400, should open in April with new restaurants and shops, along with an office building anchored by Microsoft.
Currently, there's almost 3 million square feet of office space along the Alpha Loop, Cook said. That includes about 700,000 of new office space in development. There's also nearly 230,000 square feet of new retail space and more than 1,100 apartments underway along the trail.
Among those new projects is a planned restaurant project from developer George Banks, who formerly worked on Krog Street Market but now runs his own firm, Revel. The project would bring five restaurants around a central courtyard patio at the former site of The Varsity in Alpharetta. The project would sit along the Alpha Loop.
"We have already seen people and businesses start making their decisions based on the Alpha Loop," Belle Isle said. "We think some of the office workers are willing to hop on a bike and pedal downtown."
The Alpha Loop would be built in phases. The first phase would build the trail system for the "Inner Loop," a roughly 3-mile trail connecting the City Center to and through Avalon, south to Northwinds Parkway to connect to the Big Creek Greenway.
That first phase is estimated to cost $5.2 million. City officials are just embarking on funding sources, which could include money from TSPLOST and the Community Improvement District.
"All the land needed for the Inner Loop, we believe we can have donated," Belle Isle said. The hope, he said, is to complete the Inner Loop in 18 to 24 months.
A portion of the Inner Loop is already under construction along Thompson Street, which runs from downtown to Avalon. The trail is being built as part of a three private developments along that street.
The second phase of the Alpha Loop would add park space and public art along the Inner Loop.
And the third phase would construct the trail for the Outer Loop, which would run five miles from the City Center, along Academy Street, south along Ga. 400 to the Northwinds project and back up Haynes Bridge Road.
Belle Isle hopes the project helps solidify Alpharetta's identity and strengthens its residents and workers affinity for the area.
"My whole reason for running for office," he said, "was because when you closed your eyes and thought of Alpharetta, there wasn't anything that symbolically or geographically tied people to the space."
He's worked to change that, from creating new events such as Food Truck Alley, to embarking on the big City Center project to boost Alpharetta's downtown.
"This plan to me is about drawing and gravitating people to the city," he said. "Alpharetta is a perfect city, and I think people will start to see that."
Amy Wenk covers hospitality, retail and restaurants.
Get your bicycles & sneakers ready
to explore Alpharetta!



Here is another link that will provide additional information to follow this developing feature of Alpharetta, GA. The Loop – Connecting people to activity centers, parks, and jobs.
http://www.alpharetta.ga.us/government/departments…


Thank you — Janet Weidmann | Team Leader of the WOW Team
Phone: 404-531-5700
Mobile: 770-597-2862
Connect with The WOW Team to learn more about the OTP.